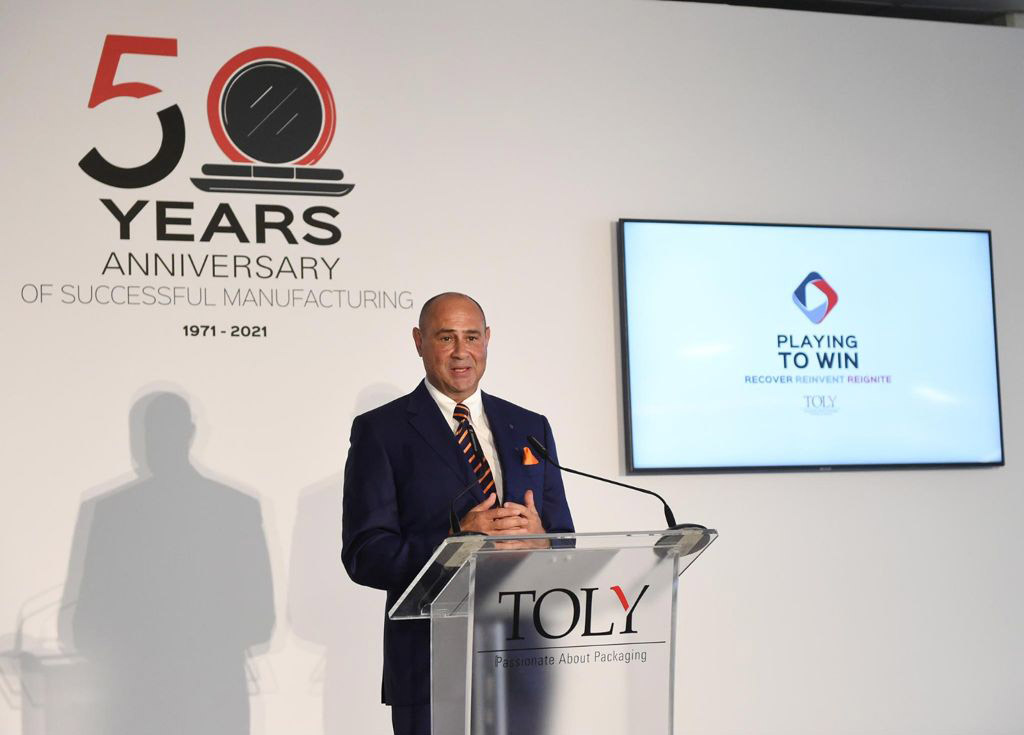 Prime Minister Visit at Toly to Celebrate 50 years of Manufacturing in Malta
3/9/2021
On Thursday 2nd September, the Honourable Prime Minister, Robert Abela, visited Toly Products, Manufacturing Plant to commemorate 50 years of successful Manufacturing in Malta.
Also present was the Minister for the Economy and Industry Silvio Schembri and Minister for Energy and Sustainable Development Miriam Dalli.
Toly's Chairman and CEO Andy Gatesy, started the ceremony by introducing the incredible story of Toly, and the insightful history that makes the company what it is renowned for today.
"From humble beginnings, Toly has continued to grow, and has evolved into a world-leading supplier to the beauty industry – although today we are celebrating our 50th anniversary, I still have the feeling that we are just getting started", Gatesy stated.
With the continuous support from the government, in 2014, Toly built their new corporate offices with an integrated innovation centre. This changed Toly's business and enabled it to exceed €100 million euros in sales. With Toly's global expansion, the company have taken their Maltese entrepreneurial spirit, and planted it in four other corners of the Toly world - America, Asia and Europe.
During the visit, the Prime Minister alongside the Ministers, were given an exclusive tour of the factory which was inaugurated back in 2019. A 20,000 sqm plant built with sustainability, agility, and safety in mind and last year despite the Covid-19 pandemic, the company continued to invest to increase capacity.
Mr. Abela congratulated Mr Gatesy that despite the still ongoing challenges and having seen a 30% drop in make-up sales, the resilience and positivity shown has led Toly to emerge from the crisis even stronger.
Earlier this year the Corporate logo changed from Toly – 'Passionate about Packaging' to include 'Building on Beauty' as the leading beauty packaging company continues to evolve into a beauty powerhouse offering a 360-degree approach enabling speed to market, with sustainable and innovative solutions.
During his speech, Mr. Gatesy highlighted his gratitude towards employees and their sacrifices aswell as the support from the government, including the Covid-19 wage supplement, which has helped Toly weather this storm and keep people's jobs safe.
He concluded his speech by reassuring that order entry has picked up and the company is confident of a better end to the year.
For Toly, the future is not an upgrade of the present but instead an invitation or an opportunity to think in a completely different way, in order to remain one step ahead as a global leader in the beauty industry.
Back