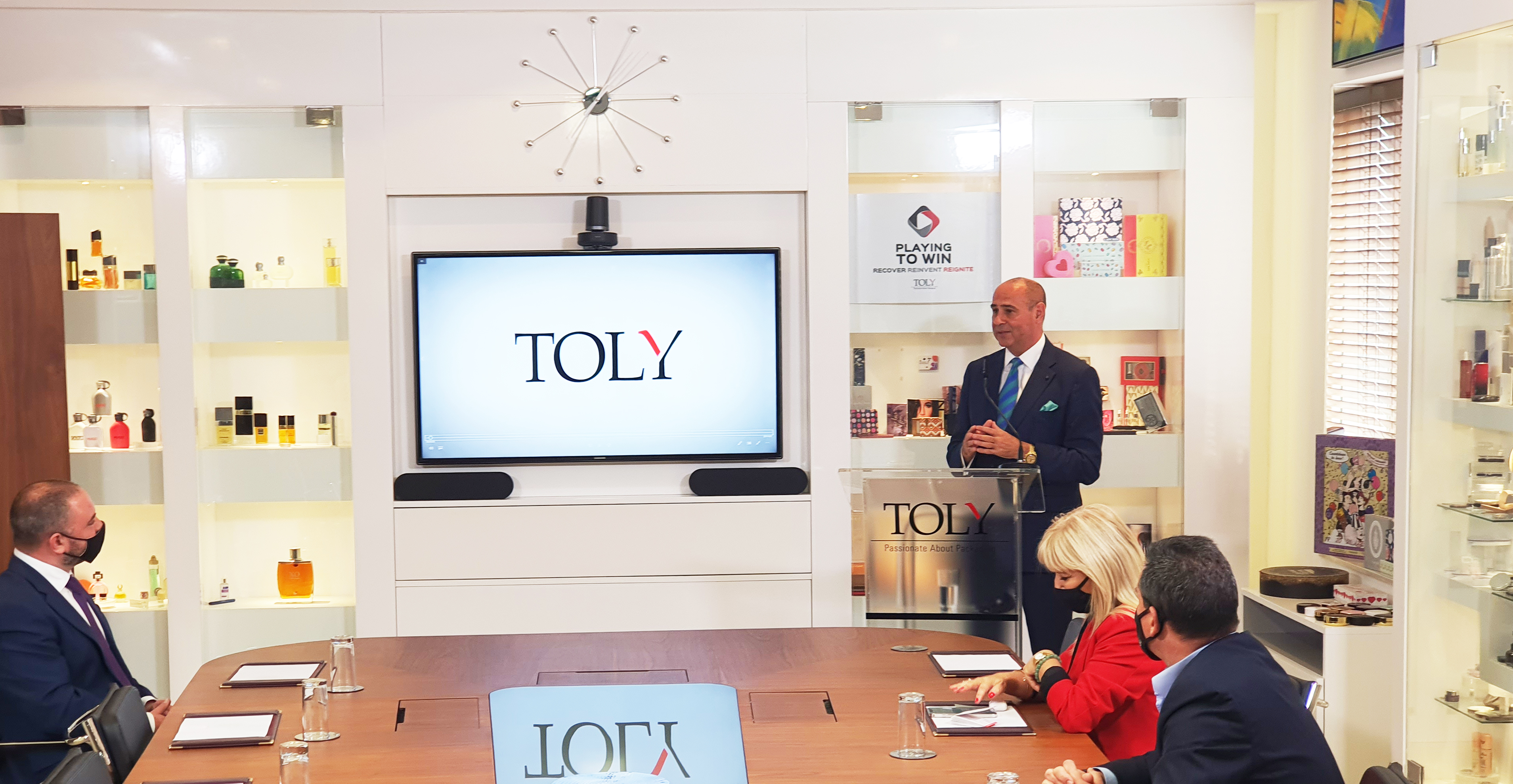 Innovation is the Currency of the Future for Toly
25/3/2021
On March 23rd, Toly welcomed Dr Owen Bonnici – Minister of research, innovation and the co-ordination of post Covid-19 strategy, to its corporate offices in Malta.

Andy Gatesy, Chairman & CEO of the Toly Group, highlighted Toly's core values and new strategic theme of playing to win.

"As a company, we will reinvent the way we do business and support our customers with exciting new innovative, on-trend products, and we will reignite our passion by lighting a fire within ourselves, to always be one step ahead."

Toly remains a privately-owned business with a strong family spirit, is customer-centric with a global commercial structure, and technically proficient, with state-of-the-art manufacturing.

Our commitment towards innovation and investment in technical expertise, our persistent approach and aim at being the most creative and dynamic company in the beauty industry allow for creative ideas to turn into new exciting projects.
In effect, Toly remains at the forefront and believes that innovation is the currency of the future.

Despite the challenges, Toly has not lost its ambition and has created a business model that is agile and innovative, disrupting the traditional packaging business through our awe-inspiring designs and a customer-centric approach.
Toly's innovation centre is located in the heart of the corporate offices, including a full range of standard packaging which displays our large offering solutions that deliver great flexibility to our customers. We remain one-step ahead by identifying trends and adapting it to our packaging, whilst at the same time focusing on sustainable solutions to protect our environment.

Covid-19 may have slowed down business but as a company we are adamant to be back on our feet in no time and as Dr Bonnici commented ''despite these challenges, enhanced R&D investments lie at the core of the public policy response to the COVID recovery'

With this, Toly are on the right track to:
Recover… Reinvent… Reignite.
Back