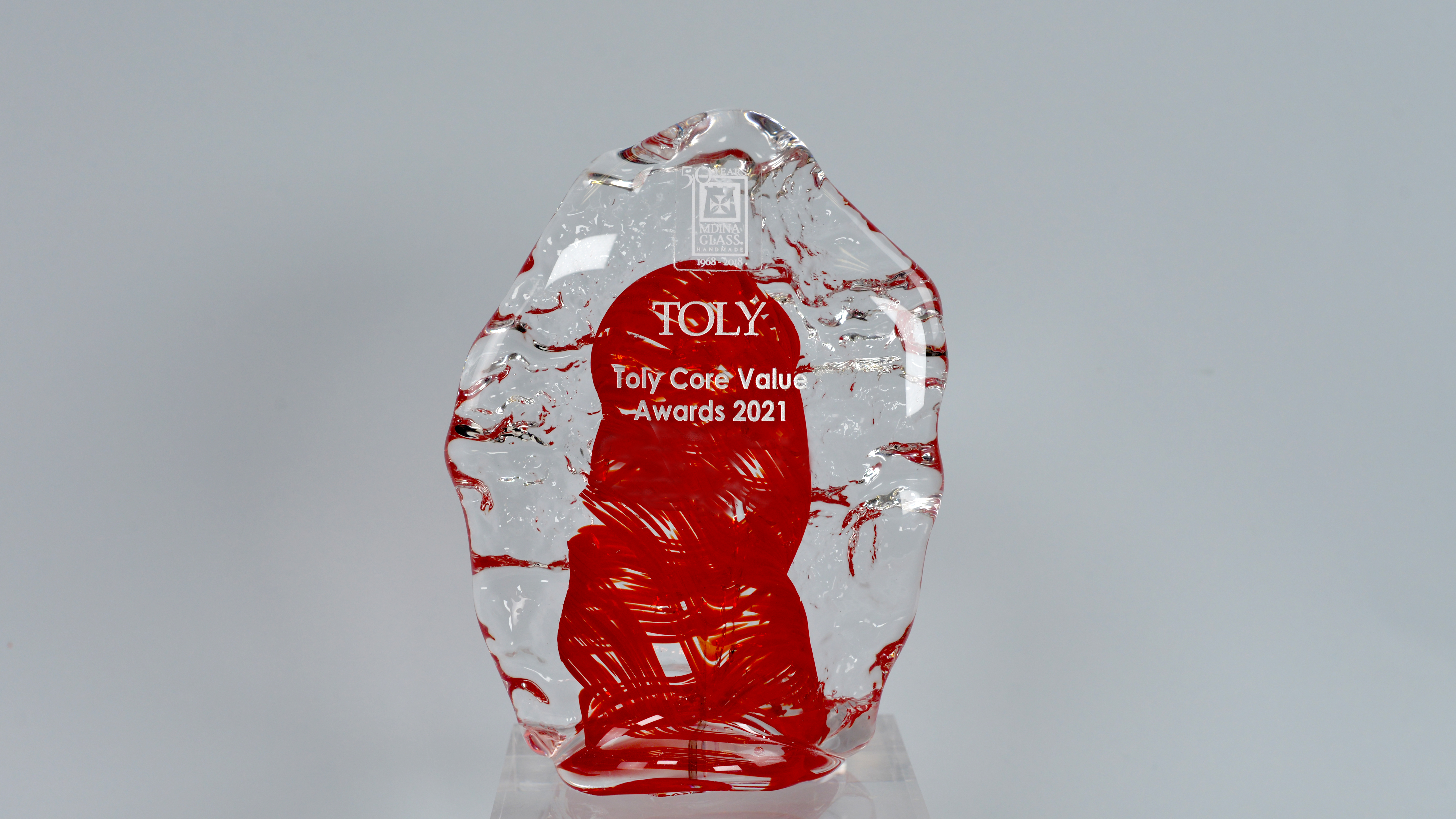 Who won the 2021 Toly Core Value Awards?
3/3/2021
During our virtual sales conference, we held the second edition of our core value awards programme, to recognise and appreciate people who consistently embody our core values and act as role models.
Toly's culture is centred around its four core values:
People
Passion
Pride
Creativity
We received an encouraging 50 nominations across all categories. The judging panel made up of employees across the different functions of the group, had a tough job to decide and identify a winner for each category, along with two runners-up.
Below are the results.
a. People
The winner is Mark Xuereb, nominated by Keith Vella and Giovanni Bellomi.
The two runners up are James Attard Kingswell and Rachel Bugeja.
Winners of this category show great care to look after, grow, stretch and mentor our people and create the capabilities we require to scale up our business in the future. Toly is a people's company and people make Toly. Mark, James and Rachel, in their own ways, embody our people value and demonstrated their commitment to make a positive impact in people's lives.

b. Passion
The winner is Kristen Kuilan, nominated by John Eureyecko and all CCOs.
The two runners up are Jacqueline Galea and Antida Scicluna.
Winners of this category ooze passion and distinguish themselves by showing up with a positive attitude, inspire the people around them with the love for what they do and the dedication with which they exercise their responsibilities. Kristen, Jaqueline and Antida set themselves apart for the passionate way they interact with our customers and employees to offer our notorious Toly experience.

c. Pride
The winner is Lawrence Tew, nominated by Mark Xuereb.
The two runners up are Claire Grima and Noel Bartolo.
Winners of this category put their hearts and souls in the job and take ownership, by thinking like and owner and acting like an owner, going above and beyond the traditional call of duty. Lawrence, Claire and Noel showcase tremendous pride and consistently put the needs of the business ahead of anything else and get things done in an efficient and successful way.

d. Creativity
The winner is Aaron Cheung, nominated by James Senior.
The two runners up are Roberta Galea and Ryan Callus.
Winners of this category challenge boundaries and look for new thinking to respond to the challenges of the future with an innovative mindset. Toly invests in creativity to disrupt the market with innovative solutions. Aaron, Roberta and Ryan all look for new and more efficient ways to increate their impact and take creativity to the next level.

e. Zoli Gatesy Award for Outstanding Contribution
Finally, the Zoli Gatesy Award for Outstanding Contribution was awarded to Kevin Vella.
To all our people with long years of service, this person is a role model. He embodies one of Zoli Gatesy's finest qualities, being a survivor, never saying no, creatively finding a way to succeed. We encourage more people to be part of the solution, to be a survivor, and to constantly adapt and reinvent themselves to play to win.
Back