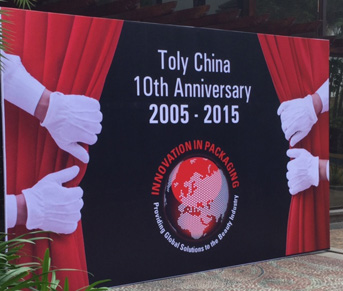 Toly China 10th Anniversary
26/11/2015
On Saturday 14th November, Toly celebrated the 10th Anniversary of Toly China factory.
Over 100 guests attended the event which started with a factory tour.
The highlight of the event was the unveiling of Toly's brand new lacquering and metallizing plant on the top floor of the building.

Toly China have now 26 moulding machines, 2 floors with 14 assembly lines - fully air-conditioned, and fully integrated
lacquering and metallising lines. Toly China now occupies all the five floors of the building.

All visitors were really impressed with the layout and the new lacquering and metallising line.
Toly China is now in full production and can give customers the confidence of being vertically integrated and self sufficient.
Customers also commented positively about the cleanliness of the factory.
Toly Group's objective is to continue to grow the business in China as China remains an important pillar of the Group.
Back