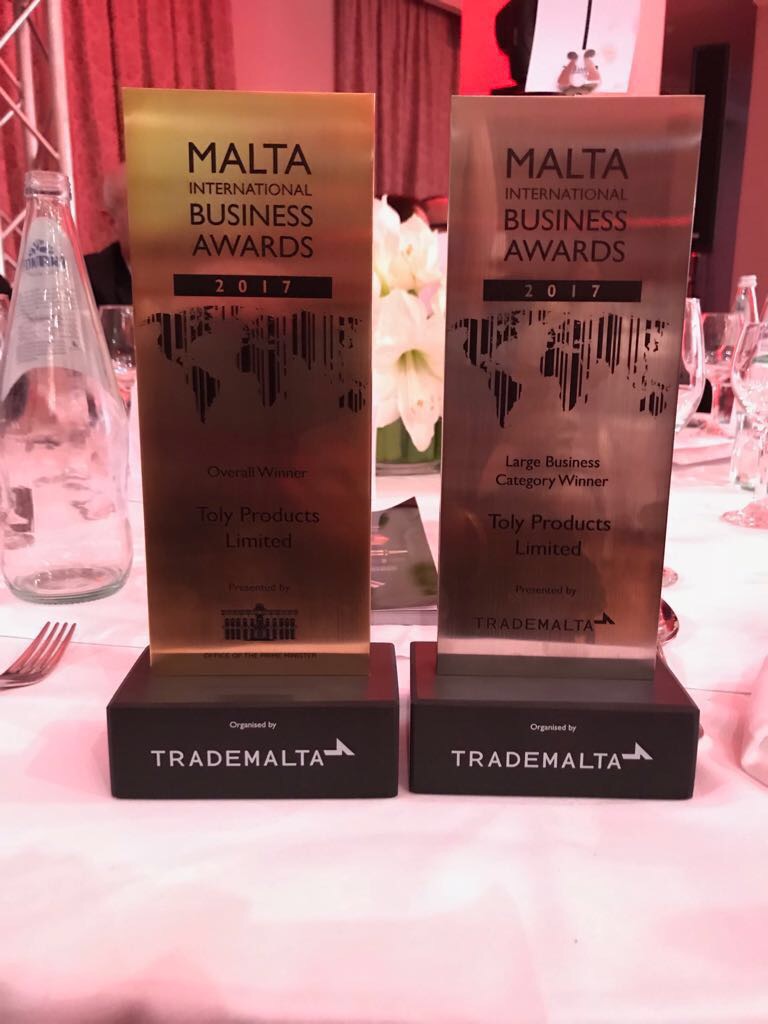 Toly Scoops the awards at the 1st Malta International Business Awards
13/11/2017
Last night, at the Malta International Business Awards ceremony, held at the Radisson Blu, St Julians, the Toly Group won the prestigious award as Exporter Of The Year in the Large Business Category.

In addition Toly was also awarded the Overall winner across all categories including innovation and the potential for continued growth.
In his acceptance speech, Andy Gatesy Chairman and CEO thanked the Toly family around the world who continue to make Toly a great company. The winning of this award is a great achievement for Toly which started operations in Malta in 1971 and has continuously evolved over the years.
2017 is proving to be the most successful year in the history of the company. At the end of October, Group sales were almost 30% up on 2016 and the group is focused upon achieving its next milestone of €100 million in sales in 2018.
In 2014, Toly opened its new corporate offices in Malta with an integrated innovation centre. In the words of Andy Gatesy, Chairman & CEO:
"This innovation centre has changed our business. We used to have on average one customer visit every month to Malta but now we often have separate 3 customers visiting each week. Customers are partnering with Toly on innovation and participating in design and innovation workshops to create new packaging aligned with the changing trends."
2017 is also a year in which the Toly Group are investing heavily in new manufacturing capabilities.
Malta
After 46 years of operations in Malta, Toly are building a brand new 12,000 sqm plant in Bulebel. This new facility will be environmentally friendly and will provide Toly with a 50% increase in manufacturing capacity. On a footprint of 5,400 sqm, this plant will also include a strong investment in new equipment in terms of moulding, metallising, printing and assembly.The building should be completed in early 2018 and on concluding the mechanical and electrical and finishing works, first production should commence in April 2018. Full migration will then take place in the following months.
As well as the historical products which include compacts and perfume caps, Toly is also diversifying its portfolio to include lipgloss and skincare packaging. This investment underlines Toly's commitment to Malta and the group is confident to continue its expansion plans, driven by its strong core values which include; PEOPLE, PASSION, PRIDE and CREATIVITY
Korea
At the same time, Toly are building a brand new 8,000 sqm new factory in South Korea to be able to expand their product offering as well as focus on the fast growing Korean domestic brands.
The new factory in Korea will be opening before the end of 2017 and will be fully integrated with moulding, decoration, assembly and metallisation.
Korea has become one of the most dynamic and creative markets in the beauty world and Toly are well positioned to take advantage of this and offer new packaging concepts to its customer base.
Future plans
In addition to these exciting new investments, Toly are also investigating the possibility to offer US manufacturing to its customers in 2018 as well as a new mass market skincare plant in China. Toly also signed an agreement in 2017 to partner with Simex, a leading supplier in Colombia, to be able to offer innovative packaging solutions to the local market.
Looking forward, Toly are disrupting the traditional beauty packaging industry with their 360 degree view of the market and believe that the future is not an upgrade of the present but instead an opportunity to think in a completely different way.
Back